Quadro 90 Spinner (4 wheels) 77.5cm Slate Black
We're giving your arms a break by adding our Quadro 4x4 sphere wheel technology to this soft-sided roller. Packing a full week's vacation of clothing and gear, it glides along quietly at your side when you're inching through the security and sprints with you to catch the last shuttle. Dual external organisation pockets and an expanding vapor, odor and dirt resistant ActiveShield compartment inside keeps your dirty trail running.
Front pocket to organize small items
Hardshell construction protects gear from weather and impact damage
Lightweight high-strength retractable locking handle with TPR coated comfort grip
Lockable zippers sliders for peace of mind when you find yourself a little too far off the beaten path
ActiveShield compartment expands from zero to fifty percent of the overall bag capacity to provide vapor, dirt and odor resistant protection and separation of active and casual wear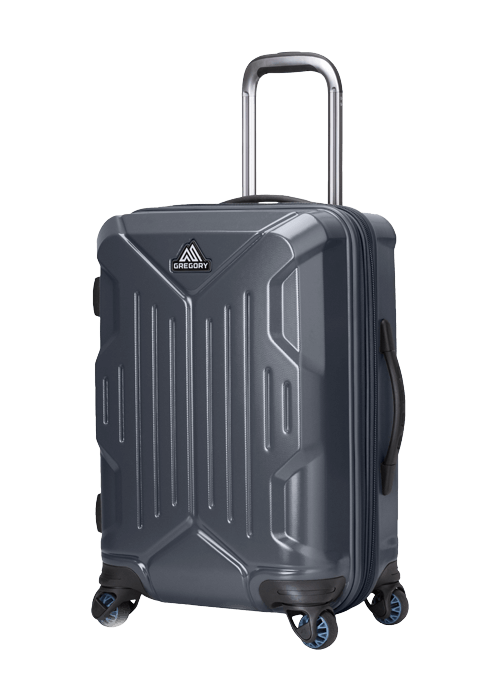 Tech

ActiveShield Compartment: Gregory's Divide series of travel bags all include a unique, vapor and odor resistant compartment inside the pack that expands to hold a substantial portion of your clothes and gear that inevitably gets dirty during your travels. This ingenious division between dirty and clean simplifies life for the adventurous traveler, especially those who demand a higher level of active lifestyle support and performance from their roller bag. Whether it be your ski boots fresh off the slopes, a sandy rash guard, or just your dirty shoes from the gym, Gregory's ActiveShield is one you won't want to live without if you prefer more active and adventurous travel.
Vapor, dirt and odor resistant TPU coated compartment with full length zipper compresses and expands with the unique needs of each trip
Carry-on sizes hold multiple pairs of shoes with plenty of room for your active trail apparel, while checked sizes hold up to 50% of overall bag capacity for larger items such as ski boots or wet suits with room to spare
3/4 zip out feature and vapor and moisture resistant coated interior allows you to invert and wash or air out the ActiveShield compartment when needed
Specification
| | |
| --- | --- |
| Model | Spinner (4 wheels) |
| Colour | Slate Black |
| Material | Body: 420D Nylon & 840 Ballistic Polyester |
| Dimensions | 31.8 x 77.5 x 44.5 cm |
| Volume | 90 L |
| Weight | 4.5 kg |
| SKU | 87008-0623 |
Materials
| | |
| --- | --- |
| Body | 420D Nylon & 840 Ballistic Polyester |
| Chasis Support | Lightweight Composite and HDPE |
| Lining | 135 High Density Embossed Polyester and Water and Dirt resistant coated Polyester |
More details
Proprietary Quadro spherical wheel system sets the standard in multi-directional rolling
Ultra-durable handle and wheel housing components covered by Gregory's Lifetime Guarantee
Reinforced polycarbonate construction delivers outstanding impact strength, superior stability, excellent thermal resistance, and low-temparature toughness
Hardshell construction protects gear from weather and impact damage
Lightweight high-strength retractable locking handle with TPR coated comfort grip
ActiveShield compartment expands from zero to fifty percent of the overall bag capacity to provide vapor, dirt and odor resistant protection and separation of active and casual wear
Interior mesh pockets for storage and organization of small items
Zippered compression panels and dual compression straps to keep gear and clothes neatly packed while travelling
Expandable zipper provides additional 15% of capacity and 22" carry-on size and 20% on 30" check-in size
Custom Comfort Grip Molded zipper pulls
Lockable zippers sliders for peace of mind when you find yourself a little too far off the beaten path