Tech
Biosync
Active Trail Suspension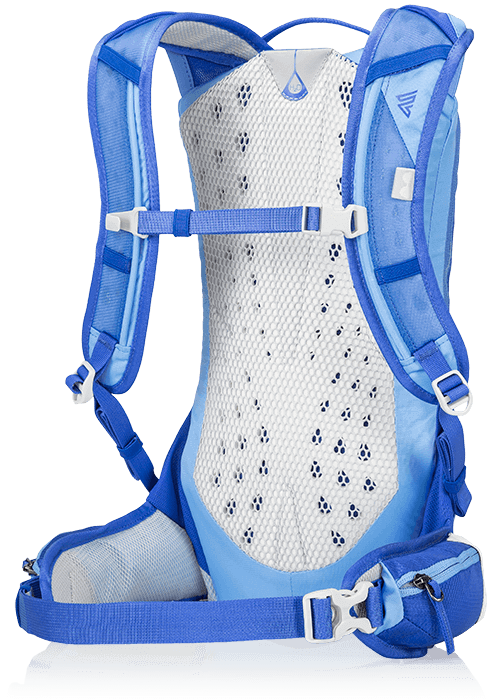 We designed the Miwok and Maya backpacks for all-terrain agility, and they've never been lacking in that department. But in order to reap the full reward of their design, you also need a perfect fit—and that's hard to achieve in a suspension as lightweight, breathable, and flexible as BioSync. Variable positioning in the BioSync shoulder harness—provided by a secure hook-and-loop panel interface that allows for infinite fine-tuning along a wide range of adjustment— helps achieve that perfect fit. When combined with new BioSync body wrapping design, flexible "tendon" harness linkages, and dynamic harness and hipbelts that flex and adapt to your every movement, the Miwok and Maya experience has been taken to the next level.
ADJUSTABLE TORSO LENGTH
9 cm of torso length adjustment with integrated BioSync harness featuring unique Sunglass stow system.
BIOSYNC FLEXIBLE TENDONS
Stretch mesh integrated into the harness attachment works with your bodies natural movement to keep the pack balanced when you have tunnel vision on single-track.
BIOSYNC WRAP HIPBELT
Stretch construction and a full surround belt create a stable, flexible platform for quick hikes during magic hour. Dual zippered hipbelt pockets complete the package.
AIRWAVE BACKPANEL AND MOISTURE WICKING HARNESSES
3D open-air backpanel reduces back contact and encourages airflow. Moisture wicking aero-mesh on backpanel and harnesses transfer and evaporate sweat as your body temperature rises.
Discover the tech yourself
BioSync ATS is designed to mimic human joint construction by using a series of flexible synthetic connectors to join the shoulder harness and hipbelt to the pack frame, just like tendons join muscle to bone in the body.

This allows the harness and hipbelt to flex and move independently of the pack without reducing load support, meaning you can run, jump, ride, scramble, and climb freely while your gear stays secure and balanced on your back.

The elimination of rigid parts not only simplifies the system and increases durability, but creates a more direct connection between the user and the equipment.