Tech
Trailflex Suspension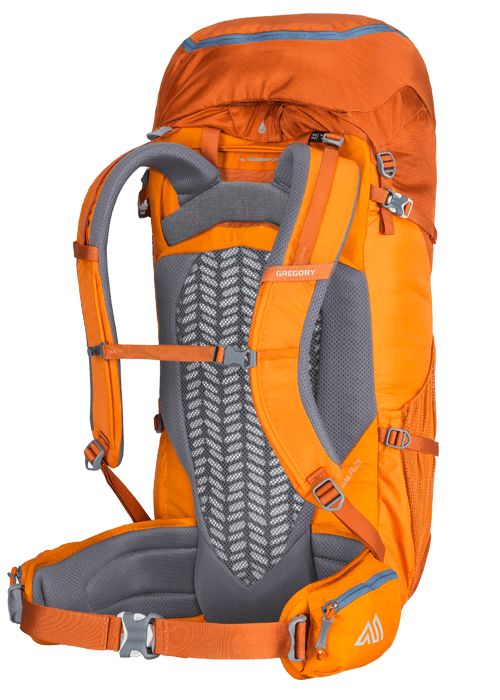 TrailFlex suspension combines a lightweight, stable, and proven internal wire frame design with custom torso length adjustment for a precision fit. The highly ventilated backpanel increases comfort across a wide range of conditions, allowing evaporative cooling in hot weather and increasing breathability in the cold. The TrailFlex chassis manages heavy loads across long distances by channeling weight to the padded lumbar region, while adjustable, pre-curved hipbelts and shoulder harness straps conform to the body without the need for break-in.
What's new
TRAILFLEX ADJUSTABILITY: The new TrailFlex is completely overhauled for 2017, with a fully adjustable back length adjustment as well as a dual hipbelt adjustment on the larger two styles. The hipbelt adjustment is the first in its class to provide comfortable and real load transfer at its largest setting, and the hipbelt pockets adjust with the belt, so you maintain easy access to your necessities.
VENTILATED BACKPANEL: The new Stout and Amber feature an on the-back ventilation technology enhancement that provides enhanced airflow for a cooler ride and increased comfort on the trail.
NEW ORGANIZATION: Back by popular demand, we've added an oversized stretch-mesh front stuff pocket to the entire collection, making quick access to gear and overflow a cinch and delivering a more modern, streamlined pack silhouette.
NEW MATERIALS: The new 2017 material package has been engineered from the ground up. The main body materials, the chassis and the foam cocktails in the shoulder harnesses and hipbelts all have enhanced durability characteristics while maintaining the lightweight characteristics of the previous Stout and Amber, giving the 2017 collection a fine tuned balance of performance and long lasting appeal on the trail.
Discover the tech yourself
TRAILFLEX ADJUSTABLE HIPBELTS are offered on the two largest packs in the collection with dual hipbelt pockets that move with the length adjustment, keeping your hipbelt pockets easily accessible.

ADJUSTABLE TRAILFLEX SUSPENSION quickly adjusts to fit your specific back and hipbelt length, allowing the pack to match your height and body geometry for a perfect fit every time.

TRAILFLEX VENTILATION technology provides enhanced airflow for a cooler ride and increased comfort on the trail.

WISHBONE SPRINGSTEEL FRAME design delivers stable load management with torsional flexibility, allowing the pack move with your body and minimize energy expenditure.