Our approach
We build groundbreaking, long-lasting, human-powered products. Through clever and responsible innovation, taking substantive steps to measure and reduce our footprint, and providing gateway opportunities to get more people outside, we end up in a better place – as people, as a brand, and as a planet.
Sustainability is a complex journey which requires a moral and scientific compass. We have organized our efforts into the three areas below in order to focus, implement, measure, and share our progress with the world.
What we build
When it comes to product performance and quality, we are relentless, so we developed a data-driven approach to make mindful product design decisions. We strive to build products that last longer, can be repaired and reused and built with the most responsible materials available. We are committed to sharing the impact of our products and demand real, science-based results when it comes to reducing a product's impact on the planet.
How we build
Our products are hand-built by skilled sewers who live in vibrant communities we want to look after. To do this we are extremely selective and deliberate about where and with whom we build our products as well as how they treat their local environment. By focusing on long-term and sustainable partnerships, we are able to have a positive impact beyond our direct business.
Gregory gateways
These are the actions and initiatives we take on to be more inclusive and enlighten more people on the incredible benefits of discovering and experiencing the outdoors. We make this possible through the products we offer and the partnerships we've committed to that protect the great outdoors and make it accessible for all.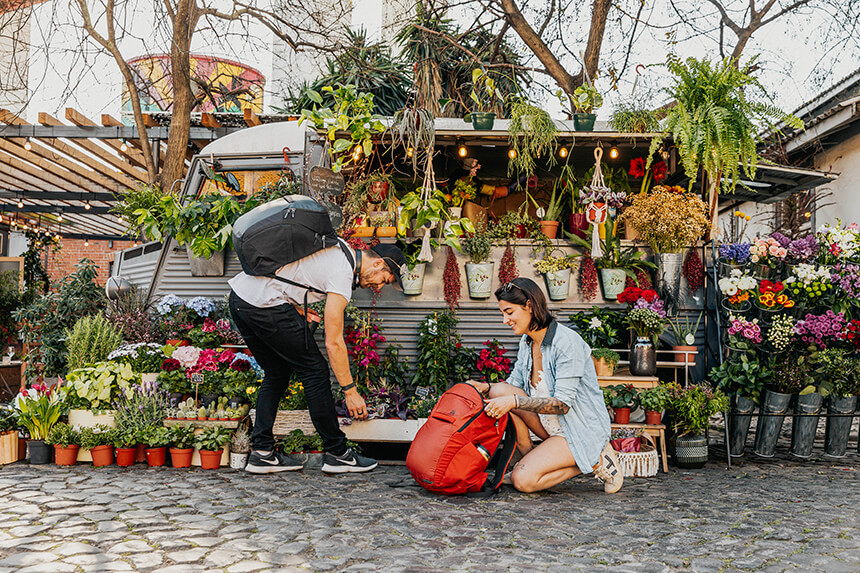 What we build
Lifecycle Design Approach: We've partnered with a leading firm in Germany to build a customized life cycle assessment (LCA) tool to calculate the footprint of materials and energy used to create, sew, and ship a product. This gives us the ability to adapt a product's design, manufacturing and material selections to reduce its impact on the planet before it is built. This also allows us to share the results with our customers, so they better understand the true product footprint and how to help offset the remaining impacts of the products they choose to purchase.
LCA Measurement Criteria: We measure the impact of our products in six key categories: Carbon Footprint (Greenhouse Gas), Acidification (negative effects on soil and water), Water Pollution (Eutrophication), Smog Formation (Ozone Creation) and, Primary Energy Demand (total extracted from the earth), and Blue Water Consumption (net intake and release of water across the life of the product).
Katmai & Kalmia: In Spring 2021 we used our LCA to reduce the footprint of a high-performance backpacking collection. Through careful curation of materials and developing 40-50% recycled yet high-performance fabrics, we've reduced the carbon footprint of these packs by 28-30%. The customer will be informed on five other areas of environmental impact reduction and armed with the knowledge to help offset the remaining carbon footprint by carpooling, using public transit, or biking approximately 90 miles instead of driving.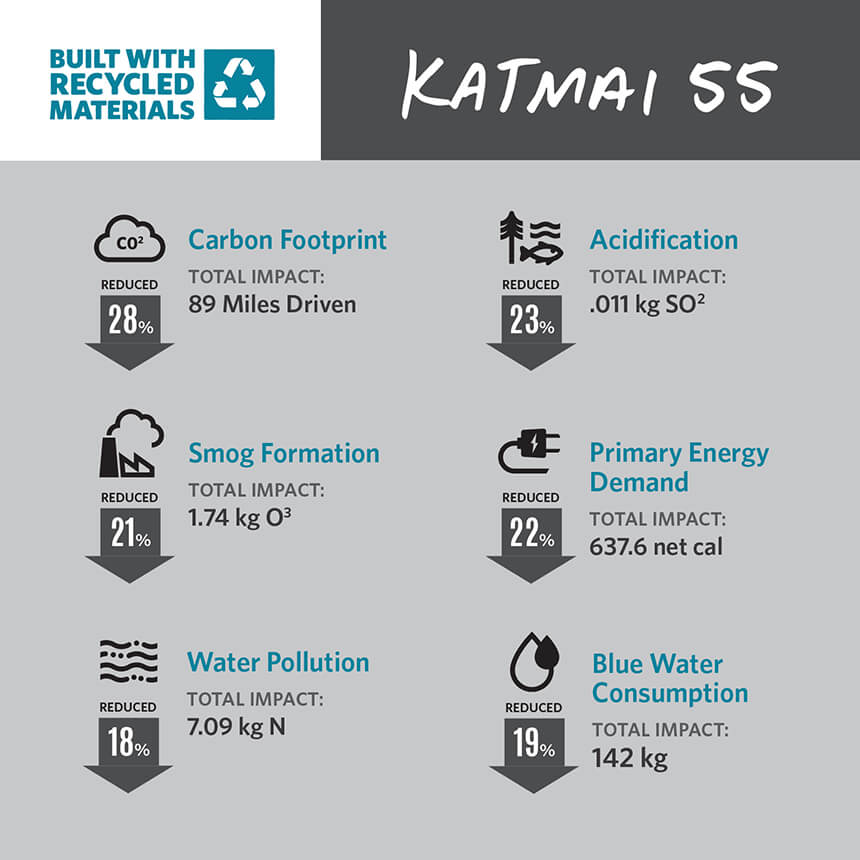 Resin Daypacks: Our Fall 2020 Resin Daypack collection is Gregory's first-ever pack constructed entirely from recycled fabrics and created using the LCA tool, which is made from 98% recycled materials. The carbon footprint has been reduced by an average of 59% relative to our conventional virgin nylon construction, with a remaining carbon equivalent impact of approximately 19 driving miles.
LCA in Action: We will continue to invest annually in software development of our LCA process in order to make usability improvements and add new material technologies to the database. As with the examples above, we will put 100% of our new products through our Lifecycle design process every season, allowing the entire product line to be actively managed by this process by 2025. We will also continue to challenge ourselves on how to communicate this knowledge in the most transparent and informative way possible to our consumers.
Chemical Management: 99% of our products now meet the European REACH regulatory standards (Registration, Evaluation, Authorization, and Restriction of Chemicals), requiring rigorous chemical testing to eliminate hazardous chemicals. This requires every material on every product to be tested and approved before production begins or changed if it does not meet their strict human health and environmental standards.
Recycled Material Shift: One insight we have gained from our product lifecycle approach to design is that Virgin Nylon is one of the biggest offenders when it comes to the overall environmental footprint. Although high density nylon is an amazingly strong material, we are innovating with better ideas and solutions to meet our high-quality standards. We are committed to removing 50% of the virgin nylon from our product line by 2025, replacing it with less impactful recycled materials or polyesters that reduce the environmental footprint. We have also developed a 40% post-consumer recycled PET polyester pack liner material to replace our virgin nylon pack liner material in 99% of our products. This has diverted 1,632,960 plastic bottles per year from landfills.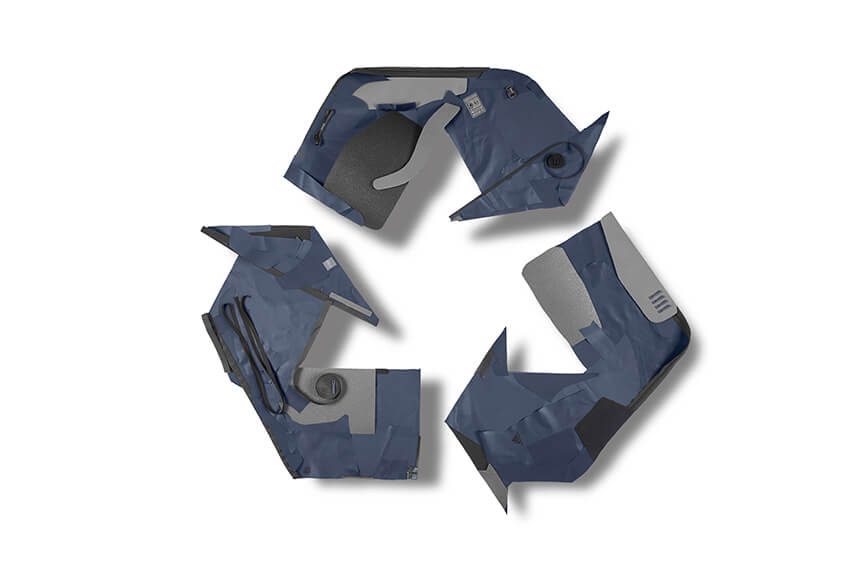 Bluesign Hardware: 90% of all hardware and buckles have been converted to Bluesign approved sources. This ensures a cleaner production process and allows us to continue our world-renowned quality standards.
Durable Water Repellent (DWR) Challenge: DWR's are coatings applied to the surface of technical outerwear and backpacks to prevent surface moisture buildup – simply put, it's the chemical that repels dirt and makes the water bead up on your jacket or backpack. For decades the industry standard DWR was a long chain, fluorocarbon-based C8 DWR. By around 2014 the outdoor industry, including Gregory, had adopted a newer, short chain, C6 DWR. Although there is a consensus that C6 DWR's are less harmful and don't persist as long in the environment as C8 DWR's, they still contain man-made fluorocarbons, which are the compounds we aim to eliminate. PFC-free (poly-flourinated or fluorocarbon-free chemicals) DWR's are the solution, but in reality, this is still a work in progress. They are more expensive and slightly less effective, but they do the job well, especially for backpacks since you aren't wearing the textiles close to your skin as you would with a rain jacket. We have been testing and partnering with our materials suppliers for years to identify the best PFC-free DWR for Gregory, and we're happy to say that all our new Spring 2021 products are using a specially formulated PFC-free DWR. There are constant developments in this area, most of which the entire industry is sharing and has access to simultaneously, so it is our commitment to make all backpacks PFC-free in 2022.
Design for Repair & Replacement: We have learned a great deal over the years about how to design products that are built to last a lifetime. This commitment to quality has led to special design considerations and new construction standards to ensure we design products that can be easily repaired to keep them out of the landfill as long as possible.
The Gregory Lifetime Guarantee - Extend the Lifespan: The same incredible lifetime guarantee we launched in 1996 is still in place today and helps extend the lifespan of products by offering free repair for the life of the product on any defects in materials or workmanship. Beyond the landfill reductions this delivers, we value the connection our customers build over time with their backpacks, so we want to keep them on the trail together as long as possible.
How we build
Ethical Charter: We have all our suppliers sign and adhere to our ethical charter, which sets out our vision for acceptable business practices related to workers' rights. This includes maintaining a safe and hygienic working environment, sufficient wages, collective bargaining rights, reasonable work hours and a workplace free from discrimination.
Social Compliance Program (SCP): Through our strict SCP agreements with all our suppliers, we have a zero-tolerance policy on child labor, forced labor, and human trafficking and we ensure compliance with all local laws.
Third Party Audits: We retain third-party independent auditors, who show up announced and unannounced to our primary factories to ensure they comply with our SCP. We strongly encourage and enable open communication with our factory representatives and employees on environmental, health, safety and social issues to maintain accountability standards and to address and correct any issues that come up.
In-House Prototyping: To this very day, we design, pattern and build prototypes in our Salt Lake City-based headquarters office, which maximizes our ability to innovate and reduces our travel footprint.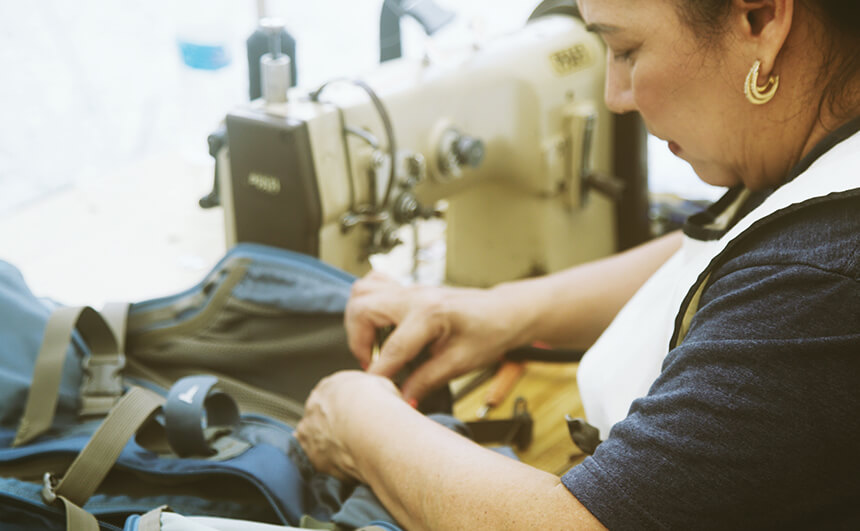 Gregory gateways
Gender Balanced Product Offering: In 2003 we launched our first-generation women's specific backpack, the Deva. This now iconic pack paved the way for us to greatly expand the offering and eventually be recognized and rewarded as the industry leader in men's and women's specific fit and comfort. This continues today, with nearly every product in our line having gender/body-shape specific versions to ensure the best possible fit and comfort experience.
Conservation Alliance Partnership: We have been donating a portion of our profits every year for decades to the Conservation Alliance, whose primary vision is to protect and restore America's wild places. Our friends up in Bend, Oregon raise money to fund specific projects that protect our outdoor playground and ensures future generations can enjoy the same.
European Outdoor Conservation Alliance (EOCA) Partnership: We have been donating every year to the EOCA, whose primary vision is to protect and restore Europe's wild places. They directly fund specific projects from Norway, to the UK to the Czech Republic.